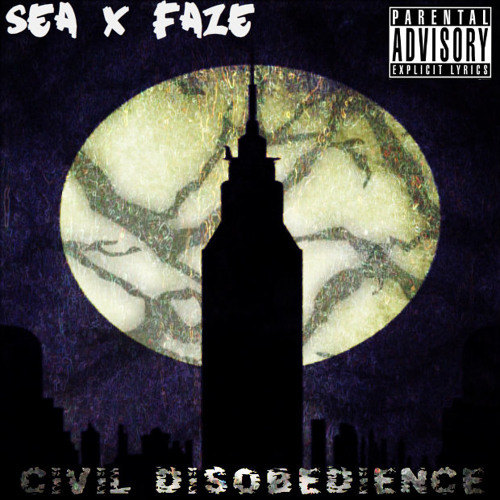 Civil Disobedience is the clever pairing of Faze Coldwinter and RecklessSea. The theme is featuring the dark and raspy delivery of Faze in contrast to the boom-bap-esque spitting of RecklessSea. As said in the intro song "Civil n*** up in this b*** reckless n*** up in this b***." More of an old-school style tape where they remix other rapper's beats, on some show and prove stuff.
The tape is mostly hype music and bar-trading. The songs aren't really super concepted or anything, but the guys are spitting. It's a freestyle tape actually. And while freestyling their rhythm is pretty good, and they have good longevity.  Faze shows a great ability to transition flows in "The Song". They both show skill in going in double time or keeping their flow at a steady tempo. They also have a level of charisma with the quirkiness they have in their lyrics throughout the tapes and the funny moments where they go off and say stuff like "Fuck Drake" or make hilarious songs like "Moov Yuh Buht Cheekz." You see a lot of influences from people like Kool Klux Klan, Lil B, and Odd Future in their music.
Though they can hold a tune relatively well with their freestyles, you can tell they suffer lyrically. There isn't much depth in the lyrics at all. You hear a punchline or two here and there, but nothing to wow you. Though, it is "for fun" type of music that is more fun to listen to than some word gymnastics or deep stories. Another thing that kinda suffers in this tape is their delivery where there is occasional droning or lack of projection, though I'm not sure if that may be a mixing issue.
Overall Civil Disobedience is a fun freestyle tape to listen to if you aren't snobbish about lyrics and stuff. They choose good beats and have a nice flow. However, if you are trying to listen to some really powerful, well-executed, concepted music then this isn't where you'll find it. This compilation comes off as amateurish, but you can see a possible growth stemming from their skill in rhythms and transitions.
Check out the tape here: